It's the Summer Solstice today and while I've already posted a shot of the iconic Berlin TV tower, I have been meaning to talk about this 'Crucifix' phenomena for a while. Today seems an appropriate enough time as the thing is still catching the sun at 9:00pm.
The Berlin Fernsehturm was built in the East while the wall was up and was clearly visible from the Western side. I use it almost every day as a compass as I navigate the city by bicycle but it was originally a bold display of Eastern engineering designed for the West to marvel at whilst sipping coffee and smoking American cigarettes.
There is a strange and unfortunately shaped (for the then, Communist East) Cross-shaped light that reflects from the tower each evening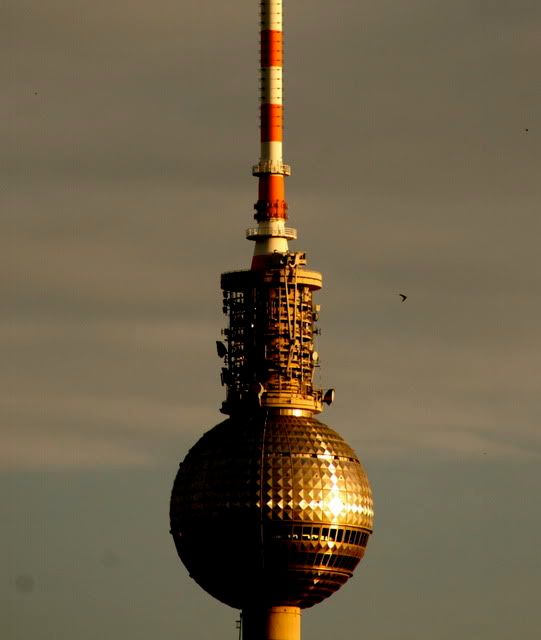 From Wikipedia:

When the sun shines on the Berlin TV Tower's tiled stainless steel dome, the reflection usually appears in the form of a crucifix. This effect was neither predicted nor desired by the planners. As a jibe against the atheist foundations of the Communist government, and the ongoing suppression of church institutions in East Germany, Berliners immediately named the luminous cross Rache des Papstes, or "Pope's Revenge". For the same reasons, the structure was also called "St. Walter" (from Walter Ulbricht). Humorously, the tower has also been called "Ulbricht's last erection."